Congratulations to Natalie Pastor & Langorra Ginger Port…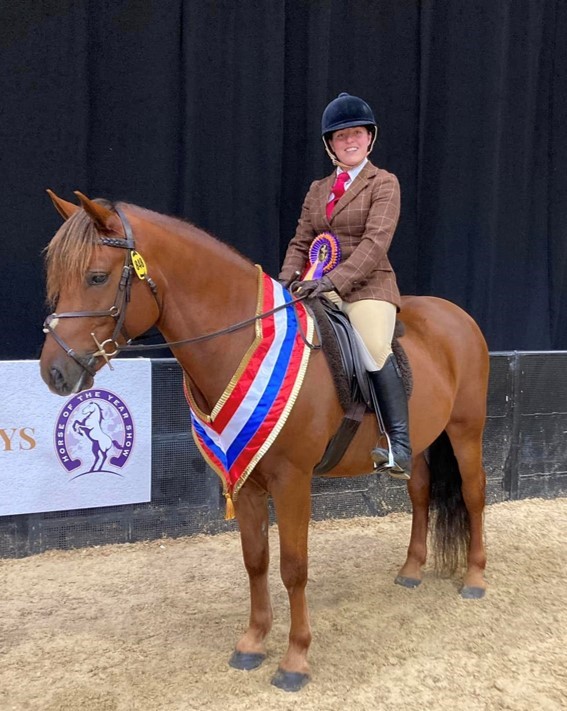 Search for a Star
The competition is aimed at genuine amateurs who have not yet had the privilege of qualifying or competing at HOYS. The working pony section is the equivalent of a working hunter pony, open to both plaited and native ponies, with five qualifiers a year. Ponies are expected to jump two fences within their individual shows and marks are given for each fence, as well as show and conformation marks.
This year out of the five finalists, two were New Forest ponies: 5 year old Muddycreek Milford ridden by Leah Edgar and my 6 year old Langorra Ginger Port ("Larry"), my first homebred.
Having had several unfortunate health issues this year with Larry, I was amazed to be riding at the final and certainly didn't feel as prepared as I would have liked. To win was therefore even more of a shock and I felt so proud of how cool he was in the atmosphere that one simply cannot practice. After such an emotionally difficult year, I feel honoured to have been riding a pony that I have bred, backed and produced totally by myself (with my fast learning, non-horsey partner's help of course!) and I think my beaming smile in every photo demonstrates this.
For anyone considering doing the S4AS qualifiers, I'd highly recommend giving it a go and to keep trying…many of the finalists at HOYS did not qualify at their first attempt, or even the first year of contesting these classes.
It really does live up to its name as the "Arena of Dreams"…and for myself and Larry this couldn't be more true!
Natalie Pastor