Registered New Forest Ponies that are sired & born on the open New Forest are termed as being Forest Bred. These ponies are often sold cheaply from the New Forest but can turn out to be real gems! Some of the Commercial Studs based within the forest have stock for sale from mares who are depastured on the forest. In addition, forest run ponies are sold at the regular sales held at Beaulieu Road. All Forest Bred foals are sired by Approved Registered Stallions who are selected for type, temperament and pedigee.
All the ponies which wander freely within the New Forest are owned by people who have the 'Rights of Common of Pasture', which permits depasturing animals on the 37,500 hectares of open Forest. Commonable animals are ponies, horned cattle and donkeys.
All animals must comply with the Verderers' Bye-Laws:
Payments to Agisters, receipt of which is recognised by tail marking (cutting) for ponies, and ear tags for cattle.
All stock must be branded to identify the owner.
Disease control regulations must be complied with and vicious or mischievous animals must not be depastured.
About 500 Commoners use their Right, there is no limit to the number of animals that may be depastured on the
New Forest, figures currently are about 4500. At present only approximately 10-15 stallions are turned out in the breeding season to limit the number of foals being born during this period of economic difficulty.
THE AGISTERS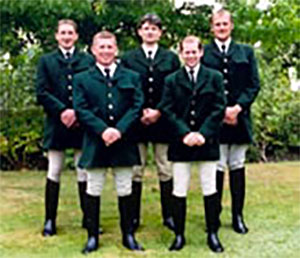 The New Forest is divided into four districts. Depastured animals are supervised by five agisters each having his own district. Head Agister Jonathan Gerrelli is overall responsible for the management, he in turn is accountable to the Verderers who are a modern statutory body sharing the management of the New Forest with the Forestry Commission. The Agisters role within the forest is to deal with the daily management and welfare of the commoners' stock, including dealing with road accidents involving ponies, cattle, donkeys or pigs. The Agisters also conduct the 'drifts' when ponies are rounded up into pounds for removal from the forest, foal branding, worming and tail marking. The tail is cut into 1 of 4 marks (dependent upon the jurisdiction of the Agister) to denote depasturing fees have been paid. There are about 44 drifts each year between August and October.
Click here for Emergency Hotlines
NEW FOREST ANIMAL HOTLINES
IT'S THE LAW: Report all accidents involving a pony, cow, donkey, dog, pig or . sheep to the Police as soon as possible, and within 24 hours.
REMEMBER:
Even if it runs off, the animal may have serious injuries.
Forest animals have no road sense and have right of way!
Drive slowly, especially at night, and give animals wide berth.
If you feed animals, they may stay by the road and be killed.
Who to call?
POLICE (24hrs) – 999 (emergency) / 101 (non-emergency)
Road traffic, accident involving a pony, cow, donkey, pig, sheep, dog or deer
VERDERERS' OFFICE 023 8028 2052 (Mon-Fri 9am-5pm)
Sick, injured or distressed pony, cow, donkey, pig or sheep
FORESTRY COMMISSION 0300 067 4600 (24 HRS)
Sick, injured or distressed pony, cow, donkey, pig, sheep or deer